Octavo facilitates readers of all abilities
There's never a reason for dyslexic students to be left behind in the classroom. Now more than ever before, through developments in the field of education and technology, teaching methods can be tailored to help individual students overcome the difficulties they face in school and at home.
Dyslexia is a common neurological condition, affecting approximately 15% of the global population. Stemming from the Greek words 'dys' (difficulty) and 'lexis' (language), people born with dyslexia often experience difficulty with word identification and reading.
But the problems associated with dyslexia are only noticeable once a child starts learning to read, with common symptoms including difficulties in recognizing words, poor spelling and weak phonemic recognition.
It's important to note that dyslexia does not affect a child's intelligence, but if not addressed, it can lead to a lack of confidence and a lower sense of achievement. Since reading is intrinsic to learning, it's crucial to provide dyslexic students with the support they need to learn how to read. In this way, you're also teaching them that they can learn anything they want to.
And this is where Octavo can help!
Customisable Background Colours
The Octavo app allows readers to customise their reading experience by changing the background colour of their screen. Studies have shown that using a light-coloured background or paper instead of a bright white one can help dyslexic readers identify words better. Through the app, readers can opt for a sepia background to facilitate their reading.
Dyslexia-Friendly Typefaces and Font Sizes
The Octavo app offers a variety of typefaces including the dyslexia-friendly 'Atkinson Hyperlegible' font. This sans serif typography design is made highly readable by focusing on letterform distinction to increase character recognition.
Moreover, readers can change the size of their fonts through the 'settings' menu on the Octavo app to make it easier to read.
To alter any reading settings on the app, simply select 'Settings' from the menu bar and proceed to choose your preferred reading settings: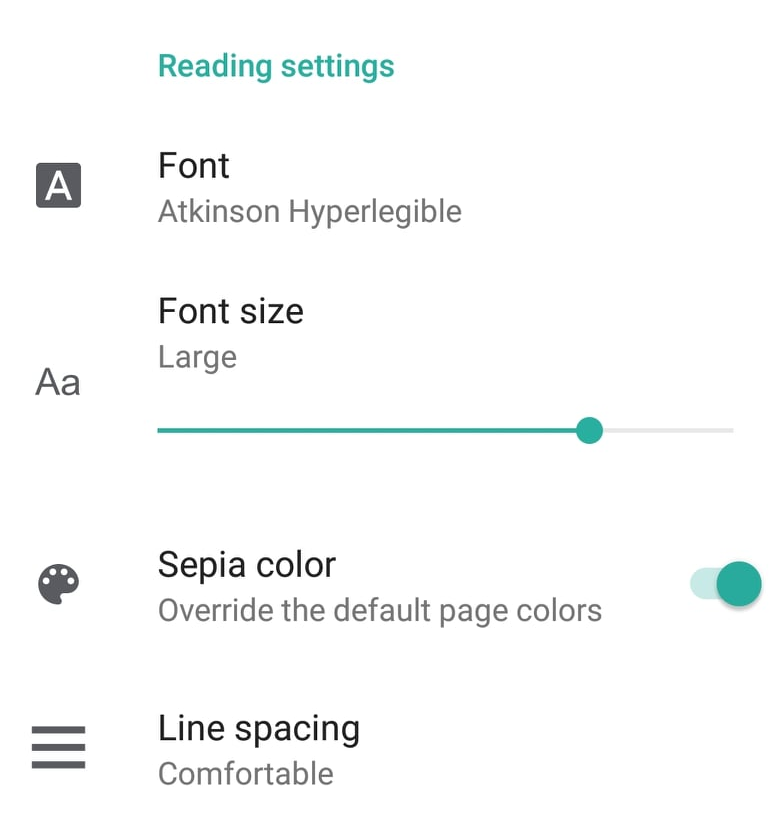 Integrate Multimedia Reading into the Classroom with Octavo
Since dyslexia affects a student's capability to interpret phonemes easily, using audio narration when reading can be highly beneficial. Providing readers with text and audio is a more efficient way to enhance their learning experience.
Through the Octavo app and web platform, many oBooks are accompanied with an audio narration feature for each page. This allows readers to read the text and then listen to the words being read out loud, one page at a time.
Levelled-Reading Collections for All Levels
The Octavo app is a platform designed for all types of readers, offering levelled reading collections across a variety of genres. By assessing a reader's skill level and matching it with the right level of oBook, students can practice the essential skills they need before advancing to the next level.
Ready to get started? Log in to the Octavo platform to discover your next read!